By now I hope you are looking forward to Friday as the tastiest day of the week as I have partnered with 8 other bloggers to bring you the ultimate in appetizers, desserts and even main dishes to serve for any football event.  We aren't talking a bowl of onion dip here, people.  We are filling the menu with things like bacon wrapped tater tots (see week 1!) and Stuffed Taco Party Bread (see week 3!)  and buffalo chicken sweet potatoes (down below!)  Basically really crazy delicious food from A to Z!
THE ULTIMATE TAILGATING RECIPE SERIES: week 1->week 2 ->week 3 ->week 4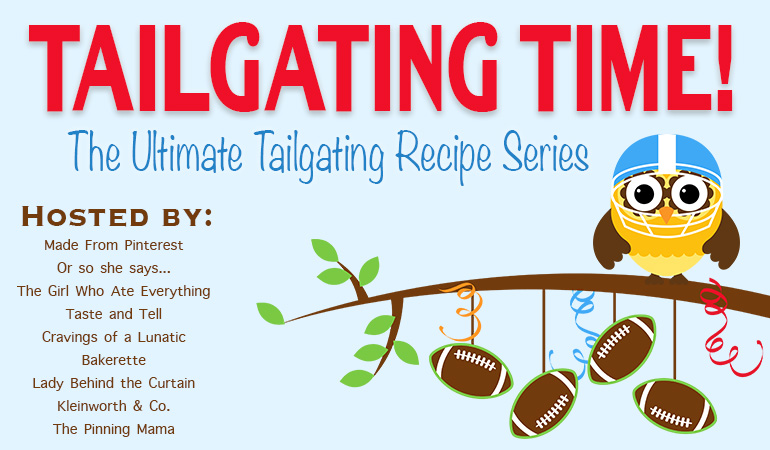 Click on the links below; stop by and visit the bloggers that are sharing their Tailgating recipes!
Or so she says…'
Made from Pinterest
Taste and Tell
The Girl Who Ate Everything
Cravings of a Lunatic
Bakerette
Kleinworth & Co.
Lady Behind the Curtain
The Pinning Mama
Now bring on the food!
LASAGNA DIP by Cravings of a Lunatic
CORONA LIME CUPCAKES by The Lady Behind the Curtain
WALKING TACOS by The Girl Who Ate Everything
CROCKPOT GAME DAY BROWNIES by Kleinworth and Co.
APPETIZER MEATBALLS by Made From Pinterest
TWICE BAKED BUFFALO CHICKEN SWEET POTATOES by Taste and Tell
SOUTHWEST TURKEY SPIRALS by The Pinning Mama
SLOW COOKER PULLED PORK SANDWICHES by Bakerette
Just in case you missed the first 4 weeks:
THE ULTIMATE TAILGATING RECIPE SERIES
1. THE ULTIMATE TAILGATING RECIPE SERIES WEEK 1 2. THE ULTIMATE TAILGATING RECIPE SERIES WEEK 2 3. THE ULTIMATE TAILGATING RECIPE SERIES WEEK 3 4.THE ULTIMATE TAILGATING RECIPE SERIES WEEK 4