Day 12- Kids Summer Fun {Ideas & Activities}
Free Printable Fish Painting Sheet by Lemon Thistle
To see ALL 31 kids ideas click here!
This free printable fish colouring sheet is given a special touch with magical scales. You can make magic happen with just a few minutes and your kiddos will be so pleased when they appear!
Hello Pinning Mama readers! I'm thrilled to be over here sharing this Fish Painting Printable with magic scales. My kiddos love to paint and any time I can add in something a little extra for them, they will sit for just that little bit longer. This free printable is hand illustrated then digitized for you. You add in the 'magic' after it's printed. Ready to see more?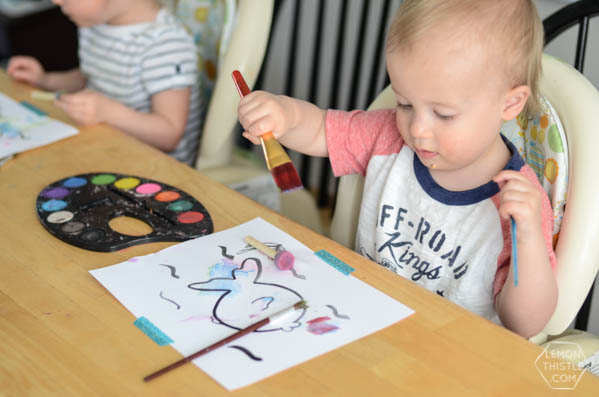 Here's what you'll need to create the activity:
First off, you'll need to print your activity sheet. You can find it in PDF here. I suggest printing it on a card stock or heavier weight paper since you'll be adding watercolour paint- standard paper tears pretty easily with water. It's also best to print on a laser printer (print shops typically print on laser printers) so the ink won't run when wet. When you have your sheet printed, it's time to add the magic!
Give yourself 20 minutes or more before you hope to do the activity. Take your glue pen and draw scallops or scales on your fish. You could also add surprise fish in the ocean background! Let it dry completely before giving the sheets to be painted. I used an Elmer's Fine Line Glue Pen and found this much easier than a standard bottle of glue.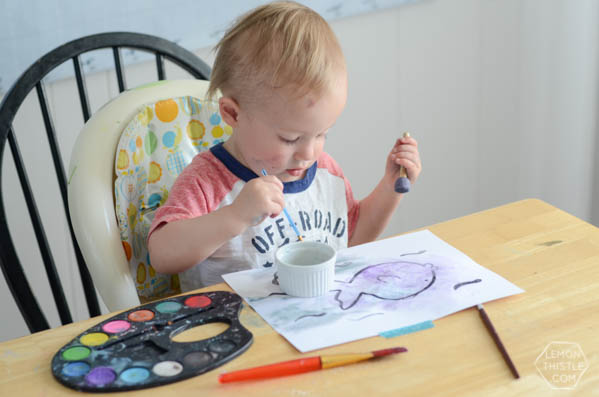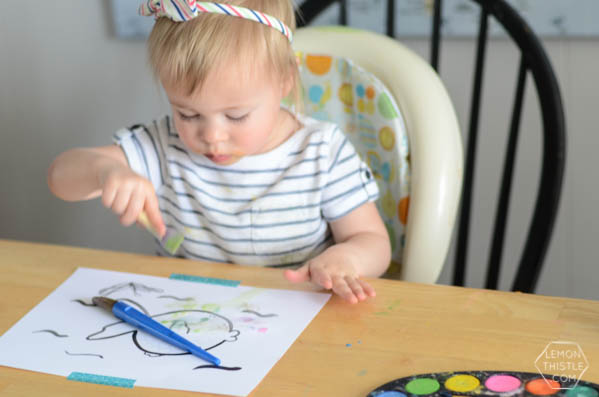 When your glue is dry, let your kiddos at it! My kids usually get more paint on their faces than the paper so I was pretty impressed that they got enough paint on to show the scales! We added a bit of salt to the painted ocean while it was still wet for a fun effect, but they were too young to find that exciting- the scales were a hit though.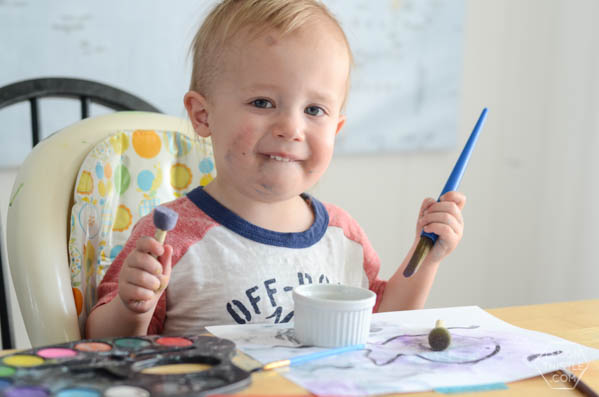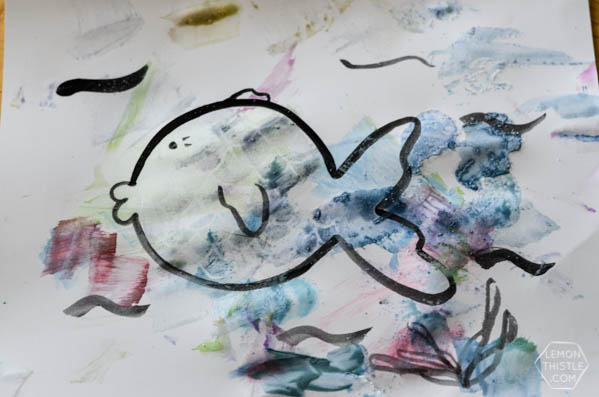 I definitely plan on doing this again with all my nieces and nephews- we always seem to pull out the paints when they're over, so this will be a fun surprise for them! I'm such a believer in art for kids, even really young kids. We started finger painting (edible) when our kids were only 7 months old and they loved it. It's messy, but so worth it! I know a lot of mamas who find art with kiddos too messy or overwhelming. I get it! Believe me, mine are wild 90% of the time. A couple things that help make it manageable for me? Tape down their artwork (even when they don't want you to) and strap them into a chair if you have one. Especially if I'm hosting more kids- the youngest ones get strapped in when doing art. I want to make sure that I get to wash them up before letting those dirty hands run around the house!
I can't wait to check out the rest of Kimber's 31 Days of Summer Fun- I hope to find some new fun ideas for my babes. I'd love to hear what your favourite art projects for little ones are- let me know in the comments!
Lemon Thistle is a DIY and lifestyle blog featuring Parties, Home Décor, Gifts and Printables (oh, and babies too!). Three times a week, you'll find hands on tutorials, beautiful photos, and personal stories. You can have a beautiful life, home, and party without spending a lot- we're keeping it real on a budget so anyone can join in on the fun.
DIY Painting Baby Shower and Watercolor ABC Book for Baby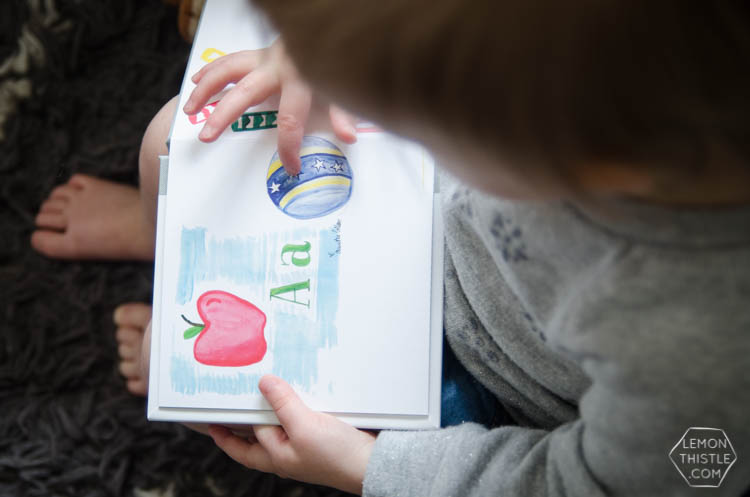 DIY Square Pouff & Sneaky Toy Storage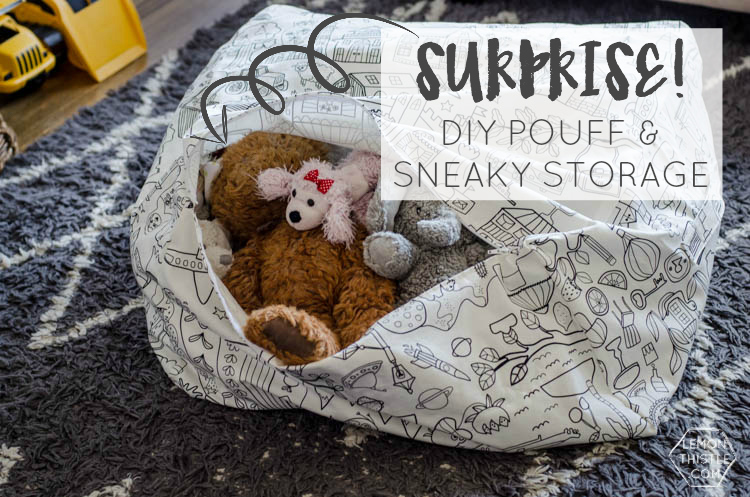 Finger Painted Snail Mail Puzzle Love Notes